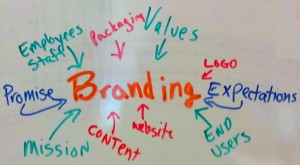 Branding the business is important no matter the size of your company.
Small businesses need branding - just as much - if not MORE - than the big businesses.
Every decision, every representation of your business helps (or hurts) in building your branding. How you answer the phone. What your voice mail says. How responsive your website. What keywords your customers use to search for your products and services.
Branding The Business
Most of branding is a promise and expectation from the other side — from the customer or client side. It's not necessarily what you say it is, although that may be where it starts. It's what others perceive it to be.
What is your company's branding? If your customers used three words to describe your company, what do you think they'd say?
Jot down a few of the words you think that they'd say.  Are they the same words you are trying to convey in your branding? Building a brand is not just what you try to project and convey.
I talk a lot about branding on Branding and Marketing because it's an important part of building a business. Without it, getting new customers, launching your new products is so much more difficult.
Especially if you don't have a lot of money to spend on your brand, you need to be aware of your branding. How is it perceived by your intended customers?
Many small business owners get overwhelmed with the idea of branding. Creating a brand takes intention.
It includes a variety of components like:
Mission
Values
Employees/staff
End Users
Promise
Expectation
and all those marketing things you'd expect like:
Logo
Packaging
Website
Content
Do you have a couple of minutes today to take a look at your marketing components and see if they reflect the characteristics that you want to brand the business with?  Leave a comment in the area below.