About Branding & Marketing
Branding & Marketing is published for professionals in business and non profits who have an interest in learning and keeping up with branding strategy, marketing tactics and building community on the internet to help them brand and market their business, services or products.
Typically the blog averages 2.5 comments per post. As of July 2013, it had over 17,000 readers and 1,000 posts.
Now that Feedburner is "gone", the readers changed a bit and as of July 2015 the blog only has 1231 posts. (Only about 2 blog posts a week in the last 2 years instead of 3 or 5 posts a week…)
Also, I started working out in the mornings, instead of blogging. Which was good, I lost weight, but also lost some readers.  In the grand scheme of things, I think losing weight and keeping it off is a better goal, but I do like and admire consistency.
More readers come in from the Facebook fan page and from emails than ever before.
Branding and Marketing was started in February 2006 on Blogger's Blogspot platform. I moved it over Christmas vacation to a self-hosted domain using WordPress software in January 2008. Since then, various themes have been implemented, including installing Thesis around May of 2009. Really love WordPress as a platform.
Although advertising is not totally out of the question, the blog is primarily a traffic funnel for the company's website and does not solicit sponsorships or ads at this current time.
About Chris Brown, editor/publisher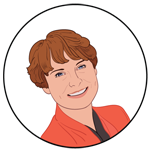 I love marketing.  Started my career working on some very "serious" international consumer brands (GIJoe, Playskool, Little Tikes)…  For the last 17 years I have owned and run a marketing and branding agency that helps companies by acting as their marketing department.  We provide the marketing resources they need to increase the sales results they want.
I have an interest in marketing, branding, social networking, public speaking, marketing research and graphic design.
Links and More Resources
Paperback: Simple Steps, Big Results: Branding and Marketing for the Small Business Owner
My LinkedIn address is http://www.linkedin.com/in/chrisbrown330
Follow me on Twitter at http://www.twitter.com/chrisbrown330
Email: [email protected]
Personal: Wife  and Mom of 2.  More from a meme several years back The Editor behind the Blog
Free Time: cycling, dogs, gardening, photography, travel and skiing.
Work: Marketing Resources & Results, Inc.
Publisher: Northeast Ohio News
Location: Northeast Ohio - South of Cleveland, North of Akron in Hudson, Ohio
Favorite Movies
Pay it Forward
It's a Wonderful Life
Sleepless in Seattle
The Blindside
Favorite Music
Toto
KD Lang
Tower of Power
AWB
Meatloaf
Favorite Books
Blink
The Tipping Point
The Artist's Way
Outliers
Free Agent Nation
not The Omnivore's Dilemma (scares me!)
More Bio about Chris Brown, marketing consultant
In 1998, Chris Brown founded Marketing Resources & Results, Inc., a marketing firm that acts as a marketing department for companies who want to grow to the next level. Her consulting and implementation company offers a wide range of programs and services — from strategic marketing planning, to PR, graphic design and websites.
The company specializes in working with Sales & Marketing VPs to get more leads and obtain new customers, primarily for manufacturing firms and professional service firms.
Prior to establishing her marketing firm, Chris spent 17 years in various marketing roles- first as Promotions and Publication Manager for a division of Dart/Kraft, then as a Product Manager on Transformers, G.I.Joe, & Playskool at Hasbro before leading the Branding and Marketing Communications department at Rubbermaid's Little Tikes division.
Chris is no stranger to industrial manufacturing. Her company has helped more than 35 contract manufacturing companies to improve their marketing results.  We specialize in being marketing consultants who create the strategy and also execute the marketing programs — an outsourced marketing department.
Her Audio CD How to Bring Your New Product to Market helps inventors and entrepreneurs to navigate the confusing way to marketing their new product introductions.
To contact Chris at Marketing Resources & Results, you can email [email protected]  or call 330-656-9793.