Bring Your New Product to Market - Audio CD:
10 Innovative and Practical Secrets to a Successful New Product Introduction.
Save months (maybe years) of work and hundreds (probably thousands) of dollars. Learn the "how-to" tips used by professional marketing experts to market and promote new products. Introducing a new product? Don't you wish you could just talk to someone who has done it hundreds of times before? This CD will save you time, money and headaches. "How-To" Audio CD — only $10.00 USD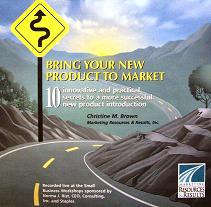 This 55-minute audio CD is full of hands-on, real-life tips and techniques to help you increase the effectiveness of your new product launch. Audio CD value $10.00. ON SALE NOW $4.99 WHILE SUPPLIES LAST.
Includes a free half hour phone consultation to coach you on marketing your new product. Contact Chris Brown to schedule a time that is convenient for both of us.

Purchase with your credit card or PayPal account using our secure merchant account.