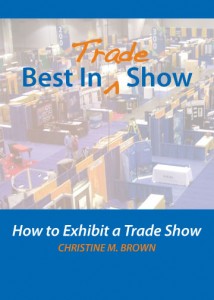 Marketing ideas for a trade show abound, but generally only in the 11th hour do they get put into action. Have you ever been planning for months about going to a trade show?
Ever find that the last week you get a terrific brainstorm of great ideas on what to show at your booth, the press release you must send out and people that you want to meet with?
That is a perfect example of how to blow your marketing budget.
Do yourself a favor and plan your last minute ideas.  You won't have to pay double or triple rush charges, worry about typos or final approvals that didn't happen from customers.
How to do that?
Marketing Ideas for a Trade Show
Try an inexpensive download of my book: How to Exhibit at a Trade Show available on Kindle. Heck, it costs less than a coffee at Starbucks and will help your blood pressure as well as your marketing budget.
Here's the link to the "Best in Trade Show: How to Exhibit at a Trade Show" ebook if you don't use a Kindle.