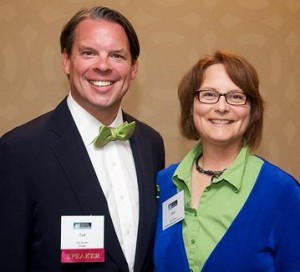 Ted Souder visited Cleveland's American Marketing Association meeting last week on his way to his new assignment in Paris.
When he came to Cleveland in May 2008, I really enjoyed his 10 Best Marketing Practices. This time he shared 4 main points. Here they are, together with my notes & comments!
1. Mobile Marketing Advances - No Turning Back
With 240 million mobile browsers sold compared to only 200 million PC browsers sold, the PC will never, ever again overtake the phone for the number of browsers. 
So, if you're not involved in mobile and mobile marketing now, you should start to figure it out.  How fast does your website load in the mobile browser? Does it show up in a smart phone at all?  Note to self: B-B and B-C businesses should pay attention, it's not just for ordering a pizza or picking out a restaurant anymore.
People use their mobile phone to take a picture of where they are on a city street and by using Google Goggles the GPS in the phone will let them know where they are.  Never get lost again!  In fact, the mobile device is very close to us.  Ted says many people sleep with their phone (maybe using it as an alarm?!) It has a voice, eyes, skin, ears and location with a speaker, a camera, a touch screen, GPS and a microphone.  Smart phones really are smart…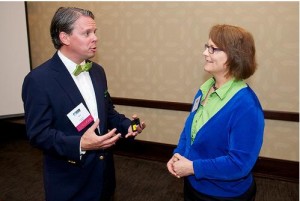 2. Advertising Formats are Changing
Site Links are available inside AdWords now, so people can more quickly dig deeper to find what they want with just a click on the + box in the ads. Using the second largest search engin and the 4th largest website, you can promote your video and have a call to action by using Pay Per Click on Video. It's cheap and has a high conversion rate. Note to self "YouTube pay per click ads? Better check this out."
Remarketing where you re target a prospect after they've left a site also allows you to upsell those who have already bought or almost bought. Knotice, a marketing company that I'm following in Akron Ohio, has a video that shows what I think Ted was describing for advertising to people who abandon in the middle of a transaction, (or purchased a similar product) but you want to keep advertising to them like this to get them to come back and buy.
3. Local is Where It's At:
Using Near Me Now, people can find companies in a walking radius on their mobile phone. You can search for a coffee shop walking down the street and because of the GPS, the phone knows where you are. Because of Google Local, the phone knows where the nearest coffee shops are. Or art galleries. Or eye doctors. Or restaurants. Or whatever kind of business you're looking for. Or school. Note to self: "Even though I've known about this for a while, I wonder. Are all our clients listed in Google Local? I better check and get them listed if they aren't."
4. Personalizing Is Becoming Even More Important
He used the example of trying on sun glasses before you buy at the Ray Ban site by uploading your face and virtually putting on the glasses. I've heard of hair salons letting people try on new hair color and styles. He also used the Domino's example of how you can custom order a pizza, and the website tells you when the order is accepted, cooked, boxed and delivered. I'm thinking it's kinda like UPS tracking?
Thanks Ted, for taking the time to stop by Cleveland on your way to Paris to work in the Google office and help other Google offices in Dubai, Moscow and the Ukraine scale their services to meet the growing demand. Your talk gave me some new ideas and reinforced some others that I'd been considering.