Workshops
Workshops, Seminars, Keynote Presentations and Speaking Engagements
This is where I put information following the presentation for special links and extra material that there wasn't time for during the actual presentation. Click here to see my marketing workshops and seminars calendar. I've also included links to conferences I've attended. Lots of great resources here!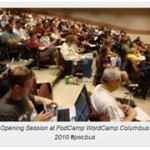 25 Ways to Brand and Market Your Business Using a WordPress Blog
Notes and slides from my presentation at WordCamp Columbus and PodCamp 2010 #pwcbus
Strategically Speaking: Social Media Marketing
June 16, 2010 in Hudson and sponsored by
Simplex-IT
and Bob Coppedge. Listen to the 1 1/12 hour event here.
PodCampCleveland
Links from info from PodCamp Cleveland #PCCLV10 here.
Cleveland Business Advisors
Here's the link to the video I wanted to show you about understanding LinkedIn.
Fit Bloggin' 2010
Great sessions that are video taped and up on the web for viewing from FitBloggin '10 in Baltimore Maryland on March 19, 2010. Organized by Roni Noone of SkinnyMinnyMedia.
___________________________________________________________________________________
Rist List Workshops, Open Houses and Meetings

Special thanks to
Norma Rist of Norma Rist CEO Consulting, Inc. has been my business mentor since I started my marketing firm in 1998. Many of the workshops on this page and the links attached to it are from events sponsored by her business or other businesses who are part of the boardroom or Rist List.

Social Media Marketing Links: May 2009

From May 2009 RistList Lunch: Click here for social media marketing links..

Marketing with Social Media:

What are the benefits of marketing with social media?
How do you get started?
Why does someone talking about what they "are doing" help promote my business?

Want to learn more how to use it to promote your business? You'll want to attend the MARKETING WITH SOCIAL MEDIA RistList Lunch on May 13, 2009, sponsored by Norma Rist and presented by Chris Brown. More information here.

Publish Your Book

Having a book, e-book or white paper is one of the best ways to market your business and establish yourself as an expert in the field. Read the full article and post about the April 2009 Publish Your Book RistList Lunch here.

The RistList Lunch featured Deborah Chaddock Brown, author and contributing author of 5 different books and many white papers, downloads and articles. She shared how to turn your knowledge into a marketable commodity. The PUBLISH YOUR BOOK RistList Lunch on April 8, 2009, was sponsored by Norma Rist and presented by Deborah Chaddock Brown. More information here.

Social Media Marketing for Women Business Owners 2008

Click here for the full article and links about the Social Media Marketing Panel RistList Open House 2008.

Photo: Deborah Chaddock Brown, Chris Brown and Leslie Carruthers at the Rist List Internet Panel June 10, 2008.