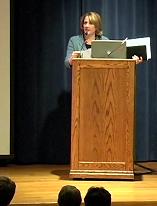 Last Friday I had the opportunity to help entrepreneurs from Northeast Ohio learn how to use networking skills to build their business. Most everyone agrees that WORD OF MOUTH marketing is one of the first marketing tools and least expensive tools that an entrpreneur has available to them.
But not all entrepreneurs know how to market themselves. Or to market their idea. They may be shy. Or hesitant to talk about their product idea for fear someone may copy it. Or perhaps they want to use the on line marketing tools like blogging and social media but aren't sure where or how to begin.
For those people who asked for a copy of my break- out session presentation, you can download the PDF here.  In exchange for downloading it, please leave a comment to let me know what was especially helpful to you or if there is a marketing tool that uses networking skills that I should have covered, but didn't.