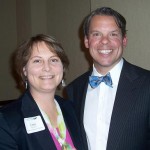 Ted Souder, the Head of Sales, Midwest Travel for Google, spoke to a crowded room at the downtown Cleveland Hilton during last nights' American Marketing Association meeting.  I enjoyed meeting him and found out that he lives next door to where the TOP CHEF was filmed in Chicago.
He shared 10 best practices shaping the future of marketing.  While none were earthshaking, I did learn about several interesting website applications, got some great statistics and it got my mind churning with new ideas again. And I guess that is the whole point about attending a meeting like that — to get re-energized!
His 10 top points as translated from my handwritten notes:
Use data, not opinions: At Google they don't say, "I think…" when they're trying to convince someone of something.  Instead the operative phrase is "The data suggests…"
Be ready online, when things happen offline: He used a peanut butter recall example.  When peanutbutter was recalled, the phrase skyrocked in search.  Adword campaigns from the personal injury lawyers came out of the woodwork.  But the strong peanut butter brands missed an opportunity to drive traffic to their site by offering some information etc.  Interesting concept: Use a Google Adwords to test by pairing a popular offline news term with popular search terms. (Check out Google Trends to look at comparing similar search terms.) 
Don't build it and wait.  Promote your site and cross promote.  Use video portals, display in MySpace, blogs, all the touch points.  YouTube is being watched by much more than students.  Average HHI $74K, 69% college educated, 71% employed, 15% students.  Every minute 10 hours of YouTube is uploaded (that's like having more than 7500 feature length movies uploaded every minute!)  Video is search friendly these days.
Big Portals are great, but Niche sites are more engaging.  No surprise here, the big portals Yahoo, MSN, AOL, MySpace get tons of traffic.  But you may be surprised if you aren't thinking "long tail", the big portals only get 25% of the traffic.  The other 75% is at the smaller much more focused individual sites. 
Video should be more a centerpiece of your Online Strategy. One more reason I have to get over being video camera shy.  He talked about the Flip Camera that records video and then plugs into your computer with a USB and uploads right to YouTube.
Take social media seriously - Nearly 50% of all page views are on social media sites. New website: Google just launched FriendConnect on Monday which will allows you to add social media features to any website by adding some snippets of code.  New to me: Ning a social network site where you create your own group - I checked out marketing, branding and gardening but not much there yet!  I can see the possibilities, but I think it might help to start with an offline group and build from there.
Tap into the wisdom of crowds - My mind started wandering to Twitter, which he didn't mention, but I'm finding has a great application when you build a strong network and then ask the universe a question like: where's the best pizza in ______.  or where can I find _____.  A woman I met in Chicago told me she bought her new Mac solely on the advice of her Twitter crowd.  "17 inch or 19 inch?"
Be where your customer is at the moment. Ted used the example of cold weather in Cleveland setting off a series of ads for Hawaii vacations — on the drive time radio, on Google adwords, on mobile devices etc…
Be aware of architect shifts. Sounds like mobile phone (not the laptop!) is going to be the big new thing. Big. I mean really BIG!  With the Blackberry, iphone and Motorola Q, it's already coming/here.  Better start building these websites so people can read and interact in a little tiny window!
Be always on.  Your customer is.  - Interesting statistic: People are spending equal amounts of free time online/watching TV.  14 hours online = 14 hours watching TV a week.  Although ad budgets aren't equal, Ted suggests that online advertising is much more accountable.  Makes sense, click thrus etc. 
Ted ended with his email and an open invitation to Link In which I haven't done yet, but will as soon as this post is finished. His LinkedIn address shows that he has over 500 linked first tier connections.  I guess that's not a surprise either as I suspect he subscribes to #10 and is always on!  Thanks Ted for a great talk!
10 Best Marketing Practices from Google's Ted Souder