Today was my lucky day. Sure felt like everything was going my way. It was the Business-to-Business Trade Show hosted by 3 chambers of commerce. I was lucky because I won a $25 gas card from The Plumbing Source — Thanks to Terri, Debbie and Greg!
And I won an American Flag from the League of Women Voters of Portage County!
I already put the flag up and I've only been home an hour from the show.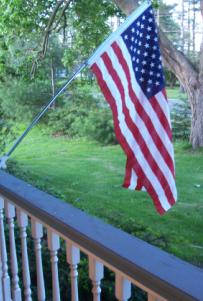 Also attended two great workshops.
Brad Kleinman offered a social media marketing workshop and made several key points:
"Social media is all about building relationships, not selling"
"More than 500,000 new Facebook users every day… most are baby boomers. Everyone else is already on."
Commit to do one thing tomorrow to take that first step. Have an accountability-buddy. (That's you Ned Parks and Kordell Norton!)
Deborah Chaddock Brown did a wonderful Sales Pep Rally type speech for all the exhibitors before the trade show started and also gave us some great Back to Basics marketing tips.
All the way around a good show and all in just 4 hours! Wow. Can't wait for tomorrow!!