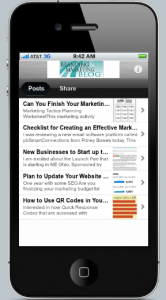 Are you considering creating an APP for your blog?  I've been considering it for a while but just started to get more serious about it.
This morning  I am testing an APP for my blog's feed.  This would allow anyone to  automatically subscribe to Branding & Marketing on their SmartPhone.   Click here to take a look at my Branding & Marketing APP.  To download the APP (Android & iPhone only, not RIM's Blackberry) use this link.
This was created using Widgetbox.com. This app maker allows you to do a 14 day free trial, so I"ve made an app for Branding & Marketing that will expire in 14 days.
It took about 15-20 minutes for me to find the logo, the feed and make all the choices, reading each page.   The logo needs to be 140 x 80, so it takes a minute to create that size logo.  The next app should take me only take about 5 minutes to make.
You don't have to be in a smart phone browser to see it, so if you're looking at it from your PC or MAC, you'll come to the webpage instead of the actual APP.
Let me know what you think.  I'll have to decide before the 14 days are up if it is worth paying $25/month to use Widgetbox for this APP.