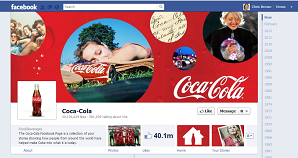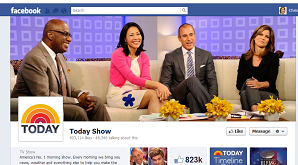 I knew it was coming soon! Facebook pages for business go to the Timeline format on March 30th.
Do you have your cover image ready? Time to get moving!
I like the way the Today Show used the cover photo for the people and the profile photo for their logo.
I like the way Coca Cola has a full timeline of things happening over the years.
But I dislike the cover image that Red Bull uses on their timeline. Looks like bloody hands to me, but I'm not the target market, right?
How to navigate these changes?   Mari Smith, the Facebook expert, recommends reading HyperArts Web Design's post about Timeline for Fan Pages.
My advice this next week, get your cover image created and select the photos with captions you're going to post — at least one for each year your brand has been in business. But don't go live with it just yet… I understand there are still a couple of serious bugs in the programming.
In the next week, I'm going to be working on the one I use for my blog, the one for my business and also one of the nonprofit charitable organizations that I help promote.
Have you seen some other great examples of Timeline pages for business — a product, service, consultant or other? Leave a message with a link below.  I find seeing examples is a great way to get new ideas.