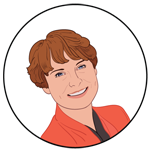 Blogging and Marketing Tips by Experts is a great example of building community. Marco Mijatovic from First Site Guide asked a variety of marketing experts to provide their three Top Online Marketing Tips for New Bloggers.
He complied them, with the author's bios and made avatars of their photos (see mine to the right) to create chapter 7 in his book and a wonderful resource for those who are starting out with their first blog site.
His article is a great example of content pulled together from a community.
I haven't seen this type of work in a while, in fact it is reminiscent of 2006 and 2007 when blogging was first exploding.
Building Community in the Viral Garden
I remember getting a big boost from the "D List", a group of marketing bloggers banded together by Mack Collier to help promote each others' content. He was one of the many who helped shape the path for building community.
Building Community with Your Marketing