If phones are the interface to the internet, understanding which ecommerce payment sites work with the various mobile phones is important.
Take a look at the results from a survey of almost 1000 sellers conducted Feb 2011 by Auctionbytes to get an idea of the pros and cons of various payment choices.  They compared Amazon Payments, Google Checkout, Paymate, PayPal, ProPay, and Skrill Moneybookers.  Note, these payment choices are focused on auctions and self-service sites like ebay, craigslist and etsy, but the survey will give you an idea of some of the criteria to consider as you make your decision on which payment services to coose for your mobile phone site's payment interface.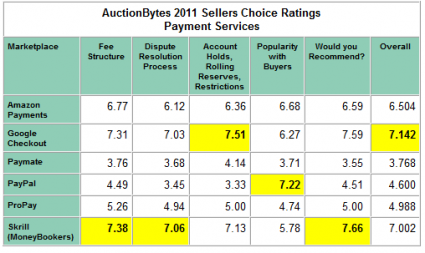 I'd love to find a survey similar to this of seller's choice ratings for payment services in mobile applications.  Please leave a message in the comments below if you know where I could find that information.  Thanks!
If you have experience in integrating these applications into your website, I'd love to hear your views on easy of use. Please leave a comment below.