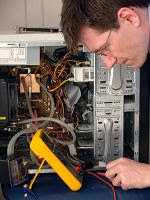 Thanks to Steve Woodruff of Sticky Figure for inviting me to be a guest blogger on BrandingWire's marketing case study for September.
SITUATION: A small Canadian based IT service provider, who attracts non-profit and financial/accounting clients, offers "all things IT" — from planning to troubleshooting and selling product. They offer great service but feel unappreciated by their clients and have been itemizing their work by the minute to justify the work they bill.
DESIRED OUTCOME: The IT firm wants their clients better understand the value their services and wants to attract new clients who already value Managed IT Services. They also want to launch a new service for the client who values "GREEN" IT by cutting down on energy and waste with some using outsourced it support to get ahead.
Read the whole description at BrandingWire.
MY SUGGESTED MARKETING SOLUTIONS:
Dear IT company:
You know that you have to change the way you view your own services and how you present your pricing. It's a challenge to change your current customer's minds, but probably a bigger challenge to change your own mind – in the way you present your services.
My suggested solutions focus on your pricing and invoicing. By itemizing for every single minute, you're training your customers to view the individual tasks of what you do, not focus on the value you provide.
Rather than itemize the invoice by accounting for the time input, I suggest you itemize the number of hours of working service, no problems, and maintenance. By "Logging every incident" and reporting it back to the customer, you perpetuate the "IT repair service" mentality.
To help you change your mind set and switch all your accounting and pricing around you'll need to comparison price shop. Are you the least expensive or most expensive alternative? What do your competitor's charge? How do your competitor's charge. I suspect you are one of the least expensive in your area. (The fact you mentioned most of your clients are non-profit and financial/accounting is an indication. Those groups tend to buy on price rather than quality or service, much more so than other markets.) Do your competitors also charge by the hour but provide breakdown pricing by the minute? By breaking down pricing into minutes, markets that buy on service or quality, feel more like you are "nickel and dimeing" them for every minute/second of work, not providing a valuable high quality service. Only the clients who buy on the cheapest price want the super breakdown of cost and timing so they can analysis it for value.
Change your invoicing to reflect the contract. If your current customers signed up for the 10 or 20 or 50 hour monthly block of IT work with a one year contract, you should bill the one year contract. In monthly payments. With a discount for paying up front quarterly or yearly. Now your clients feel they are paying by the minute with the clock ticking. By itemizing for every single minute, you're training your customers to view every tiny step of what you do, you are not focusing on the value you provide. In actuality, your clients are buying a year of your service. At digitaledge.org you can find free invoice templates, and more information on invoicing your clients.
Revise your invoice to offer a discount for the early large payment, instead of trying to justify every minute of your time. Your invoices are probably itemizing things that the client doesn't even fully understand that you're fixing and repairing. The reason they've hired you is to take the IT hassle out of their radar screen so they can do their work without working if the IT is going to be the problem. Think like a consultant. Selling services is different than selling products. You've got to establish the value proposition. You're selling security, reliability and convenience (you're not selling minutes of your technicians time.)
Sit down with the client to help them create an IT vision for their company. Help them with budgeting. Describe various scenarios for their business.
My recommendations:
1) Revise your markets to focus on clients who buy on quality and service, not on who offers the cheapest price. To attract these other markets, revise your positioning to become a trusted advisor. Make a checklist of value questions when a potential client calls to determine what they're looking for in an IT provider.
2) Plan a bridge for the future while trying to make the switch from low cost provider to trusted advisor. It won't happen overnight. Your own sales mindset has to make the switch before you can expect your clients and potential clients to recognize what type of company you are.
3) Instead of selling hours, sell value. This may feel strange at first. It may help to think of the pricing model for different industries to make it feel more natural to you. I've given examples below.
Here's how I think you need to revise your marketing and sales materials to reflect the value of just three areas of services:
Proactive: This is the architecture and construction industry. Think professional, expertise, upscale, trusted knowledgeable expert with well trained craftsmen to execute the vision. This is how you'll want to be known. Planning. Meetings. Strategic. Budgets and forecasts. You'll be a partner with your clients by acting as their Executive Vice President of Information Technology and Information Systems. You'll plan 3 years out. You're the company they'll call when they're planning a move to a larger location and want to do the wiring before they move in. You're selling your company's services as the whole IT department from strategic planning to the IT help desk "how do I get a new email set up?"
This type of service attracts a different client base than you currently have. Larger clients. Clients who report to a board of directors, not clients that are the owners of their own business. These are clients who have a budget and line items on the budget. Clients that turn in budgets in August and are refined in September/October and then approved in November/December for the next year. (Offer to help CFO's with the budget in July and August.) With this type of service, you're acting as an outsourced IT department, but don't try to use the word "outsource" in ANY of your material. It has the baggage of bad quality.
This positioning is ripe for clients who value the "GREEN" positioning value. Don't price your consulting services by the hour. You're not a temp agency. Instead, price your consulting services by comparing to a percentage of the value you provide.
During the sales call, try to get a sense of the value of the service you're providing. What difference does it make if the consulting is completed or not. What will it "cost" the company to do nothing? If the client didn't prepare an IT plan, what would it cost them?
Maintenance: Think of this as the insurance industry. This is the one year contract to ensure that everything runs smoothly. You're selling peace of mind and security here. Quote it with variable value just like when you cover your car with different levels of value. How many PC's? How big is the server? How old is the system? What type of internet and intranet connectivity? Make a list of all the variables that affect the pricing.
When you sell the services, interview the potential client like the car insurance guy does: what year is the car? Is it driven for business or pleasure? How old is the driver? What's their driving record? The maintenance contact is a one year contract that is paid monthly. The contract will involve monitoring, on service maintenance, and the reassurance that if something happens, you'll come out and fix it no matter what time of day or night. You're insuring them with peace of mind, that if their worst fears are realized, they will be okay… and even if their realistic fears are realized, you're going to take care of it.
Reactive: This is the 911 call with the fire department, helicopter, ambulance, paramedics and emergency room section of your offerings. Think 24/7 emergency services. You're selling rescue. This is the "fire" work, when the system has gone down without warning.
Just like the aspirin costs so much more in the ER than it does in the drugstore, your services need to adjust as well. Get the contract signed before you start work, just like in the ER. You can charge a high fee, but probably don't want too many contracts like this because staffing can be difficult. It's hard to plan for and you'll need your best troubleshooting people to jump and run when it's time. High margin work, because there is a lot of "down" time between emergencies. Open ended pricing until after you know what the emergency is. Sell the "insurance" (maintenance) after the emergency.
Check out the other marketing experts case study suggestions:
Olivier Blanchard
Becky Carroll
Lewis Green
Ann Handley
Gavin Heaton
Martin Jelsema
Valeria Maltoni
Drew McLellan
Patrick Schaber
Steve Woodruff
Kevin Dugan
Matt Dickman
Chris Brown
Cam Beck
Mark Goren
IT SERVICES: Selling Value, Not Minutes