As a small business owner or the sales and marketing professional for your company, did you write improve positioning in search engines, or maybe improve traffic on our website, as actions item for your 2010 marketing strategy to do list? 
If so, your business would probably benefit from this ebook on how to do local search designed specifically for the small business. 
Marketing eBook Review
This local search ebook is written by Joe Balestrino. I don't know Joe from Adam. But he said he was an expert SEO guy from NYC.
After reading his ebook, I definitely believe the expert SEO stuff.  But New York City? Not so much.  Because the ebook wasn't fast, confusing and overwhelming. (Okay, I'm stereotyping!)  It was easy-to-understand and follow. The tone and manner felt mid-western to me. (Joe, are you sure you didn't grow up in Ohio and move to NYC?)
Overall rating: 4.5 stars. Perfect for the do-it-yourself small business owner trying to get a foothold on the internet and not willing (or able) to pay someone thousands of dollars to do it for them.
Joe explains a little bit about why local listings are important, but spends the vast majority of the ebook on how to do it.  This is not an ebook where he's trying to sell you on buying his services.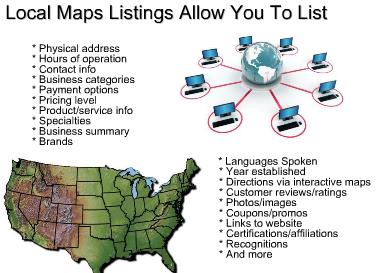 What I like best about this local search ebook:
Obviously the content: Great ideas. How to set up directory listings. How to select keywords and use them correctly.
Format: well laid out. I like the header and footer. Good use of white space and set up so it's easy to follow. Good graphs/charts
Liked the graphic on the front and the way he incorporated it on every page
Liked all the screen caps with directions on exactly where to click
Writing: conversational, helpful, instructional. Not  condescending and too many unexplained terms.
Written in a way that I could understand what I needed to do.
Not only what I needed to do, but what to do next.
Lots of examples. And not just about one company in the same industry
Some of the ideas were so good, (I mean drop my jaw good) I thought, why wasn't I already doing that?!
It was hard to "get thru" because I kept wanting to stop reading and start working on my local search
What I didn't like so well:
Half of the book was dedicated to PPC pay per click and Adwords. Personally, not my favorite subject
It seemed like it ended abruptly after the chapter on paid search
The ebook describes how to set up your company in the local search directories, what to do after you're set up, how to optimize your website for local search and how to drive traffic with paid search. 
It's practical.  One little paragraph from the book tells how a dentist might decide between 2 keyword phrases for a page on his dental practice website. Joe shows how the dentist could easily decide between "dental office" or "dental center" by using the Google trends tool. 
Full disclosure: Joe sells the book for $97 (it's on sale right now for $72), but he sent me a free copy to review.   I am not getting an affiliate commission on the sales. 
In my opinion, the book would pay for itself right away, just as soon as you implemented some of his ideas.