When I worked in the toy industry (both at Hasbro and at Little Tikes) finding the right color of the toy was critical. And equally important was the communication between all the people who had a hand in bringing that product to market.
Beyond the designers, there were graphic designers, packaging printers, retail merchandisers, advertising executives, licensing partners (think cookie jars, sleeping bags and party favors), and countless others who need to know the actual color of a the product.
Getting it all to match on a package logo, a t-shirt, a ball cap - the color matters!
So how can you figure out what color you need to specify if you are working with an existing palette? Here's a handy website tool from Pantone that will allow you or your designer to get a quick handle on the color you need.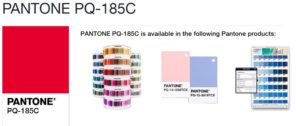 Some designers use the eyedropper technique. That works well for printed materials but it is helpful to have swatches that can be attached to the product when setting a standard and providing to a company who may be licensing your brand, logo or product for use with their product and brand.
Even if you aren't a designer with an eyedropper tool on your software, you can install a tool in Google Chrome and to easily match a color on your website or another photo. This will work wonders when you're having trouble finding the right color that matches your other marketing elements. You'll have to use Google Chrome (not Firefox or Safari) as your browser to install this too.