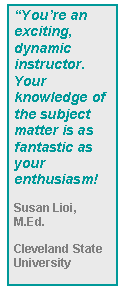 Ever feel like word of mouth advertising is your best way to build the business? Then your business may benefit by gathering testimonials from your satisfied customers.
Of course the best way to get terrific testimonials is to do a wonderful job. If you haven't done a great job, don't ask for a testimonial, fix your service first!!
Here are a few ideas that work:
You've done a great job for a great customer. They are happy and so are you. Now is the time to approach them for a testimonial.
Offer a contest for your employees. A prize goes to the individual getting the best customer service rankings. Make sure your employees tell the owner of the company, someone will be calling to ask about your satisfaction with our services. They're running a contest at work and we're trying to win. We get a prize if we get the best satisfaction ratings. It also helps if the people delivering the service tells the client at the end of the service, we are having a contest at work about customer service, so you'll probably get a call about how we worked together.
Don't just say, "Would you mind giving us a testimonial?" They'll say yes, but never bother to write something or send you the form back. The key is to call the person that you have worked with or have the relationship with to do the interview. Ask customer service type questions. If the answers are positive, then ask if this could become a testimonial to put on the website.
Call to get the testimonial =don't make them write it! Interviewing is better. The best way to get a great testimonial is to call on the phone and interview them. Then ask "is that your comment for the contest? After they say yes, then the interviewer says 'Do you mind if I wrote this up and get you to sign it to let us use it as a testimonial?"
Immediately type it up. Then e-mail the statement to them for them to print out and fax back to you with their signature. Don't make them write it up. If you're not interested in going the fax route, mail them a copy and include a stamped self addressed envelope so it's easy for them to return the testimonial.
Another way to get better testimonials is to use fill in the blank questions so your clients don't have to write it all from scratch. Ask them to print it on their letterhead.  Try to use some open ended questions like these:
The best thing about _____ services was: ____________________.
The reason I selected ______ to be my ______ service provider was _______.
I would recommend _______ 's services to a friend who needed this service because ________________________________.
At the end of the project I felt ____________________________________.
Do you make getting testimonials part of your marketing program?  How do you get them?  How do you use them?