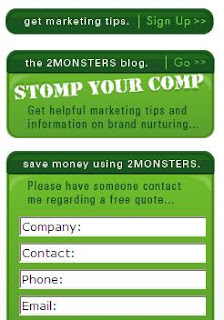 While updating one of the websites we're working on for a client, we got into a discussion about having a "Call to Action" on every page. What is a "call to action"? I think it's a request for a prospect to take the next step. A phrase that signals where to go next in the process. Anything that moves the prospect closer to a sale:
Request an RFQ
Learn more.
Sign up for our newsletter
Download a free report
Call for a free quote
Register for a trial sample
When working on closing a sale, the call to action is to provide a series of steps to help move the prospect along. Faster is nice, but skipping a step along the way or going for a close too soon can damage the whole process. On the other hand, you don't know if the prospect is READY to order right now and you don't want to continue to make them walk thru the entire process if they're ready to move right now. When you're reading company websites, tally how many have a call to action on every page… or even ANY page!!
Stomp Your Comp, 2Monster's blog, makes some good points about call to actions that work:
Newsletters usually contain article abstracts or introductory paragraphs. The action, then, becomes "Read the full story.
Informational messages newsletters, bulletins, updates direct the reader to get the full story at the website. Again, you need to tell the reader not only what to do but what he can expect by doing it. "Learn more techniques to increase click-through rates" is both information and action-oriented.
Adding more call to actions, and using ones that are more clear and obvious, will make your email messages more effective in driving conversions - no matter what that conversion might be.
Make it easy for the recipient to understand not just where, but why they want to click through, and what they can expect on the other side.
The 2Monster's company website takes it's own advice with lots of ways to take the next step as seen in the mini screen shot photo from their website. Looks like 2Monsters is right here in my own backyard: Akron (Cuyahoga Falls) with another office in Chicago. Since my company appears to be a direct competitor with them, I hope they don't use steel toed boots!! Nice website, Monsters!!