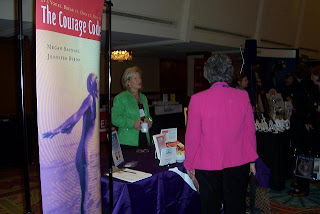 One of the biggest trade show trends I've noticed this year is the use of vertical retractable banners.
You know the kind that you sling over your shoulder like those fold up soccer chairs and then assemble in less than 30 seconds. They are like an upside down window shade or movie projector screen.
What's not to like?
Inexpensive enough to really promote your new message for the show.
Durable enough (with care) to use for more than one show.
Quick to set up.
Lightweight to transport.
Vertical format forces design.
We've added lights for one of our clients, looked at double - back to back banners for another.
It really makes the large heavy booth that requires a box on wheels, much less appealing.
Last April I posted Making the Most of Your Booth Space at a Mini Trade Show but now I'm seeing the trend for the large shows as well. The hardware for the banner shown in this photo is not the retractable kind, but the banner is about 33″ x 78″ or so, which is a typical size for the retractable banners. If you were interested in learning more about the massive range of banners and signs you can have for your trade show, check out options at Signs and Printing or similar professional local providers.