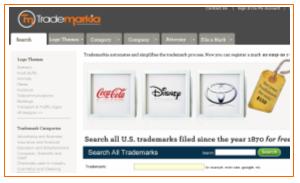 I just found out about a new website that can be quite helpful when you're launching new products or businesses. It's a small startup in Silicon Valley, California that just launched this month.
Trademarkia has built a huge library of 5.7 million logos, names, and slogans anywhere on the Internet by leveraging public information. The website allows business professionals, branding and marketing consultants who are want branstorm and create a new business name, slogan, or logo with a new way to get creative ideas and inspiration for new marks.
Trademarkia has also created a unique way to automate and simplify state and federal trademark registrations and monitoring.
Because you can look things up by category, by type and so on, I really think that this site might be very helpful when you're in brainstorming mode! I've just looked at the site, but have not actually used their free services yet. It's got to be helpful to visually check out the competitors' logos, don't you think?
How about anyone else? What are your thoughts? Have you used it yet?
Did you like this blog? Tell your followers on Twitter or Tell your friends on Facebook or add it to StumbleUpon:

Subscribe now to Branding & Marketing through an RSS feed or Email feed so you don't miss anything!