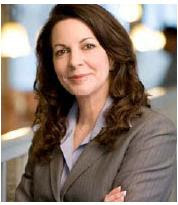 Julia Stewart, the president of IHOP, is credited with a tremendous turn around there: marketing, advertising, remodel, prototype, new menu. She credits turnaround to the franchisees and the communication - collaboration - conversation with them.
Now she'll have a new challenge: IHOP just bought Applebees. Stewart knows what the problems are, she was COO for 3 years until 2001.
From Restaurants & Institutions magazine:

In her conversation with analysts, Stewart, a double major in marketing and communications at San Diego State University, made clear that marketing changes will be needed to revive Applebee's. It will need a tightly focused and communicated brand positioning that is reflected in everything from menu to restaurant design to advertising.

"Everything needs to come from having a crystal clear brand focus," she said. "Everything should go through the brand filter, which is what we did at IHOP."
Although I'm a great proponent of branding, I do think Applebee's problems go deeper. Mainly the cooks, the waitresses, the food, and the pricing.
Frankly, I liked their marketing. That's why I bothered to eat there a few times, but I each time I left somewhat disappointed… and now I never go there. In my opinion, Applebee's stopped paying off on their brand promise, so I stopped going. You can have great marketing, but if the brand doesn't deliver, it won't work.
There are 3 different Applebee's within 15 minutes of my home, more than another other casual dining restaurant. It would be great if they "fixed" their problem. Looks like last Friday, McCann Erickson was selected as agency of record and will have a new campaign ready for this fall.
Julia… I'll be watching. I hope you "fix" the problem, not just rebrand the restaurant.
UPDATE September 2010: Guess what? I used to skip Applebees, but funny, I've been to Applebees just about everyother month since this post. I like their WW specials and their 2 for $20 specials.