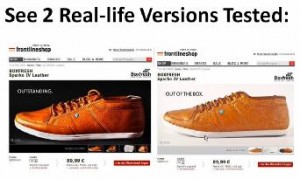 Ever wonder which version of a website landing page or an email subject headline would deliver better results?
If so, you might be interested in checking out this library of "A/B and Multivariate testing" case study results. They have almost 300 case studies of real life examples. You can sign up for a 90 day trial for $25 or a full year for only $75.
Wonder which one of those offers wins — the 90 day or full year?
EDITOR'S NOTE:I have no affiliation with "Which Test Won" and am not receiving any money or in kind benefits from this post. I just thought it would be helpful to business professionals trying to improve their marketing programs.