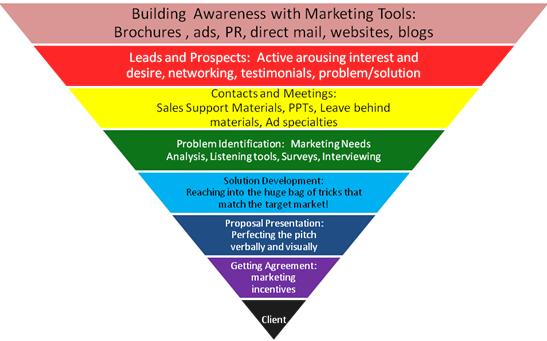 The main purpose of a marketing program at most companies is to increase the number of leads, or speed up sales conversions, or otherwise improve the sales process. Click on the small chart to the right to see where marketing techniques overlap in the sales process.
Improve Sales Results with Marketing Tools
So which specific marketing techniques do you use to improve your sales results? Here are some examples:
Use tracking mechanisms for all your awareness building programs. Know your numbers in Google Analytics with unique viewers, key word phrases and best blog posts. Focus your awareness building marketing on gaining entry level trial as well as the home run.
Remember to ask "where did you hear about us?" And keep track! Review your stats quarterly at a minimum.
Use a "code" in your calls to action, like "Call today and ask for Alice!" (That is unless you have an Alice person who works at your company. In that case, try another name!)
If your call to action is really an email to action, set up a specific email address for each one of your marketing tools to help identify which one works the best. Once you know your "best", tweak it. Testing a control eventually leads to improvement!
Create a specific landing page on your website that is specifically related to that technique. For example, you speak at event and offer the audience a hand out or another tool if they visit a specific website available only to them.
Create a telephone extension specifically for a marketing program, so you can track the number of inbound calls going to that number.
You must track conversions at each step and even track return conversions in order to know what is the improvement. Remember the adage: "What gets measured, gets managed."

The sales process is an opportunity for creating an on-going improvement process. Tweaking each one of the sales steps by improving the marketing techniques you use at each step in your sales will improve your overall sales results.
What marketing techniques do you use that have improved your sales results? If you are the sales & marketing professional for your company, perhaps you don't have time to test or even implement these techniques. Perhaps it is time to consider bringing in a marketing consulting firm that also provides marketing services.
Subscribe now to Branding & Marketing through an RSS feed or Email feed, so you don't miss anything!