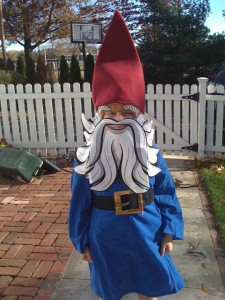 The Promotional Products Association International (PPAI) has identified the Top Branded Halloween Costumes this year as Travelocity® Roaming Gnome™, Captain Morgan®, The Burger King®, GEICO® Gecko / GEICO® Caveman, UPS® Delivery Man, Kellogg's Frosted Flakes® Tony the Tiger™, and M&Ms®.
Are you heading to a Halloween party this weekend?
My husband and I are going to a friends house and are still brainstorming a costume. It'll be an outside party unless the weather is too brisk. Maybe we can be the tiger and the gnome — although I don't think these two match! Maybe matching M&Ms would be better.
Any ideas??