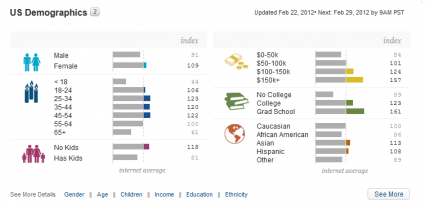 Ever wonder who was visiting your website? Or a website where you were going to be placing a banner ad? I find it interesting to look at who is reading Branding & Marketing.
Take a look at Quantcast.com. Similar to Google Analytics, you past code into your site and you'll be able to learn more about the number of visitors and page views, as well as the demographics of the visitors.
A special shout out to Danielle at Quantcast who let me know that my analytics were removed accidently when I updated my Thesis version. The latest version of Thesis is really smooth for updating the header in a blog, however it did not carry thru my code for Google Analytics or Quantcast. I appreciate her alert so I only lost a week of data.
So, dear reader, how do you compare to the "average" reader at Branding & Marketing? Are you a female making more than $150,000 between the ages of 18 and 54? Leave a comment and let me know.