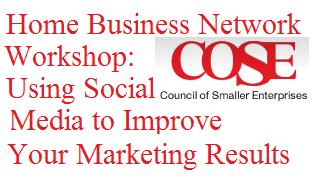 Today I presented Using Social Media to Improve Your Marketing Results to the COSE Home Business Network Workshop at Indiana Wesleyan, just south of Cleveland, Ohio on Rockside Road in Independence. Use #COSE09 to follow on Twitter.
As promised, here is the link to the my PowerPoint slides on slideshare.net.
Still think Social Media has no place in your marketing plan? If so, you may be changing your mind soon as more and more businesses are finding social media networking as powerful and cost-effective tools to reach out to find new customers who previously were beyond their reach. Many people are either finding unique ways in house to use social media to reach out to a new customer base for their company, or are hiring specialists like Electric House to give a top-notch campaign of video content to go alongside their pre-established social media plans. Social media is the new playing field for all marketing strategies, and it is one filled with potential. The rise of 'influencers' is meteoric, and there are now people making a living from their social media pages. This presents a massive opportunity for marketing - using these influencers to recommend or review your brand or product to their sometimes millions of followers is a very effective way or improving your brand exposure. All you have to do is find tiktok influencers who are willing to spread the word about your brand.
Twitter: helping Rhode Island Businesses Represent their Brand -Cheryl Phillips from Providence via Cleveland's Examiner.com
You'll want to check out my additional post with lots of other Twitter, Linked In and other key social media marketing tool links too: Social Media Marketing Tips and Tools May 2009
This was the description before the event:
"Are you in a blog fog? Confused about Twittering and tweets? Keep hearing how social media is the "next big thing" for marketing your business? Take some of the confusion out of the social media maze with the COSE Home Business Network June 25 workshop, Using Social Media to Improve Your Marketing Results. Chris Brown, owner and president of Marketing Resources & Results, Inc. will explain the various types of media, when to use them, how to use them and show you how to measure their effectiveness in your marketing campaign. Interactive questions and answers will also help to eliminate some of the confusion and help you develop a powerful program using Web 2.0 techniques."