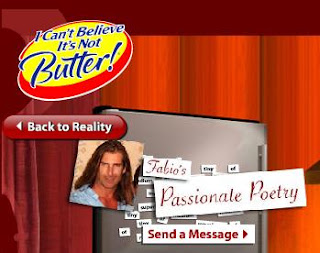 Who do you think is a key target market for the product "I Can't Believe It's Not Butter"?? — Probably women of a certain age group who love to send links & hoot over silly Internet stuff?
Well, if so, the makers of I Can't Believe It's Not Butter hit a home run with their Kitchen of Love and Fabio Phone … You simply enter in a few select things about someone: name, industry, state they live in, hobbies and phone number… and Fabio calls them with a "personalized" message. It's a hoot.
Reminds me of the Brawny University I blogged about a few months ago.
The rest of the refrigerator is included in this whole thing — vegie tales for grownups. This is a great example of viral marketing. It's the type of thing that is just too funny and begs to be shared with a friend.