If you are a graphic designer, marketing or branding professional, you know how much color matters. Here's some resources on color trends that you may find helpful.
1) Fashion Trend setter has more forward thinking color trend info for fall 2007 and spring 2008.
2) The "Color Speaks" conference by the Color Marketing Group (CMG), an international, not-for-profit association of 1,500 color designers and the worldwide authority on color, is in Chicago today. Any bloggers there? I'm interested to find out what was said. A quick search of Goggle Bloggers and Technorati didn't show anything yet.
3) In the midst of selecting some 2007/2008 colors? Here's a cool tool: color wheel with an "internet safe" color option. Nice resource for mixing/matching.
4) The Color Marketing Group says about color in 2007:
Green rules! - The idea of green means the color green, too. But look for softer, more botanical greens inspired by nature.Blues from Nature The color of the sky, the color of water, true blues from nature will be everywhere.

New Natural Neutrals The newest neutrals, especially medium to dark browns, are soul-satisfying. Beiges, browns and tans will be more earthy and grounded, reflecting the colors of rock and stone and soil.

Rich, Ethnic Accents Lighter, neutral settings will be punctuated by warmed-up accent colors from a rich mix of countries and cultures. Deep, rich ethnic reds and warm, glow-y oranges are the punch colors for 2007.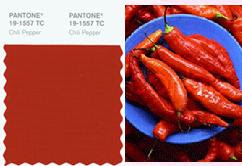 5) The infamous PMS color experts: Pantone says that Chile Pepper is the color of the year for 2007.