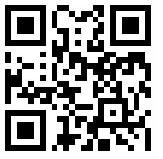 Do you think tags and QR codes are going to be the next marketing staple in the group of tactics? Or is this just a new technology fad that is talked about and fades?
In the past year, I've heard a lot of talk about it, but still haven't seen the ground swell of people actually using them.
Maybe when more people really to start download the QR reader apps for their smart phones.
QR is short for Quick Response.
Have you downloaded the QR reader or Tag reader app for your smart phone? Have you used it? Are you using QR codes or tags?