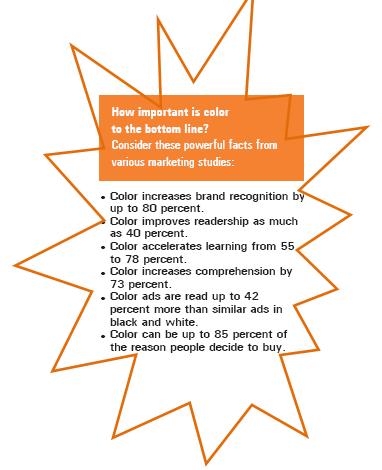 Are you revising your website? Updating your logo? Rebranding your company?
The colors you consider will sound an unspoken message of your brand. It's amazing how colors influence us. 
Consider how we use color in our phrases of speech:
In the red.  (overdrawn)
Don't be yellow. (afraid)
Feeling blue?  (depressed)
Looking green. (about to throw up)
Going green! (being environmentally careful)
In the pink. (healthy)
In the black - or- out of the red. (profitable)
Purple passion. (zany)
The Color Marketing Group is a 1300 member group of design professionals who reach a consensus on the socioeconomic tends of color.  Read these stories about "The Profit of Color" from this white paper by the Color Marketing Group.  The graphic above with the mini facts came from this information.  It includes interesting case studies from Kleenex, Cadillac, P&G, Johnsonite, Thomasville Furniture, Leatherman Tools and others.
Other blog posts about color of interest:
What's Your One Word? One Color?
Using All the "Senses" in Marketing for More "Cents" with Sales
Learn More About Color
List of colours in 2009/2009 Asia Pacific
Sherwin-Williams colormix 2010 Forecast Rediscovers Palettes of the Past
Color for 2010 MJN Interiors