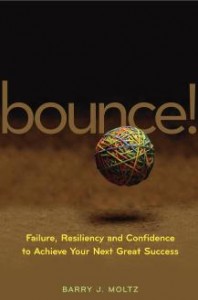 With a crazy week of wild winds over the weekend and then bad news from the financial markets, many business owners may be feeling a bit uncertain… and even scared about moving forward with their entrepreneural efforts.  Today's post is dedicated to getting centered again, moving forward and sustaining business.
I like to think of myself as a cautious optimist.  I definitely see the glass half full, but I'm debt adverse.  My parents always told me the keys to sustaining a business: Pay yourself first. Don't spend more than you make. Reinvest the profits. But how do you keep the faith to move forward?
During uncertain times, I think it's helpful get perspective.  Stay inspired. I find that often companies want to pull back and decide to cut their marketing budgets, just at the very moment they should be moving forward. 
Need to feel inspired?? Take a moment to watch this video.  Just a little more than 4 minutes, it was created during a young entrepreneurs conference by Barry Moltz, the author of "Bounce! Failure, Resiliency, and Confidence for Your Next Great Success." I found it extremely inspirational.
Still feeling uncertain? Check out Barry's Bounce book here.  His book is filled with life stories of business professionals who learned to Bounce! One of Barry's lessons in getting over the failure and moving into the next phase:
Drive where you want to go.
Accept the results you get.
Build the life you want.
Who can argue with that!!?
What do you think about cutting the marketing budget when things get uncertain?