Even with more than 20 years of marketing experience, I learn something new everyday… and reading other blogs from marketing and branding experts is one way that helps me to learn and grow. (I think my company's clients are counting on that! They hire us because they don't have the time or resources to do all of their marketing… So it's even MORE important that we are staying current in the field.)
Here is an interesting marketing and branding blog that hopefully will inspire you in the way that it inspired me:
Marketing, Advertising, Branding, Blogging: - An award-winning European blog with lots of video links and a different spin on the Marketing world from Laurence-Helene. I love seeing commercials from all over the world and she does a great job of finding and relating them to life in London.
My name is Laurence-Helene and I am a Frenchie living in the UK. Mum used to send me to the UK every summer from the age is 14, and I immediately fell in love with the UK. My dream came true! After 6th form (High School) I went onto studying Modern Languages (English & Italian with German minor) at the Universitie Lum Lyon II (France) and promptly moved to my adoptive country. I spent 3 years in Canterbury (Kent) where I completed a BA (Hons) in Marketing. London has been my home for the past 3 years and I currently work as a consumer Insight Executive specialising in Qualitative Research. My goal is to move to NYC although I am also open to other locations!
Because of her terrific command of languages and international background, she not only can really can comment about the way a brand's promise is communicated, Laurence-Helene interprets the nuances for us as well. Here's an example:
Working for a French advertising agency is serious business! A lot of French ads use cultural references and puns. The advert below for LU (part of the Danone group) is a reference to the Van Gogh who suffered from dementia and cut off his ear after an argument with Gauguin.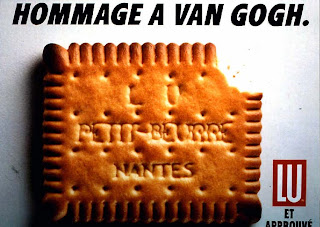 It's interesting to me to watch commercials from US companies, developed for the European market, interpreted by a French marketing guru living in London. Thanks, Laurence-Helene.