Kohl's Chief Marketing Officer has a great opportunity today to turn a negative into a huge positive. Let me explain.
Two years ago, I read an article in the Jan 10, 2005 issue of Fortune Magazine that convinced me that as a marketing and branding professional, I should take blogs seriously. It still took me a year to jump in and start writing.
In the article, one pull-quote got my attention: "Email is for OLD people."
The story talked about the 10 million dollars lost in 10 days after a blog posted a video about the Kryptonite lock problem and how the company handled it.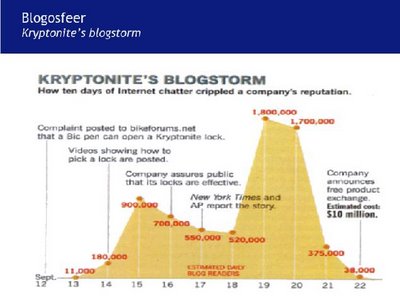 The attached visual, courtesy Marketing Facts Slideshare slide 45 illustrates the speed of the effect.
Email might be more popular with "old people" (over 30) but blogs are for everyone. And blogs are especially important for marketing people. Knowing how to respond to a blog news in a timely fashion is crucial.
Fast forward to today. Case in point: Mack Collier poses a what-if question to marketing mavens the world over about Kohl's messy store: What should you do when your brand is dissed (and rightly so) on a blog? Here Paul at HeeHaw Marketing in Dallas posted photos. I couldn't help be interested in this post since 7 days earlier, I shopped at Kohl's and blogged about a similar experience.
Truth hurts. Kohl's can't very well come out and say "oh no, our merchandising is neat and clean. That was an isolated incident." They can't say it anymore than the lock folks could say, "you can't open our lock with a bic pen." Especially since in the course of a week, 2 different marketing blogs, one in Northeast Ohio and one in Dallas Texas, posted the same message.
However, I believe that Kohl's can do something because retailing is an ongoing process. But they need to act quickly and with a plan.
The question is what should they do? On the surface it seems obvious… take responsibility.
Clean up the stores.
Make it a priority to keep it neat.
Post response comments to the blogs that mentioned what a mess the store was.
Institute a training program.
Use the blogs as fuel to the fire of getting manager's/employees at the store level motivated to get their store mentioned in a good way.
Adapt the tools of the declutter queen at FlyLady.net and begin using routines & zones.
Turn a negative into a positive.
Make it a contest.
Promote it. It's the perfect opportunity for the "teachable moment."
Whatever they do, they shouldn't ignore it.
But, will they address it? Will Kohl's become the next Kryptonite lock? Or will they turn a big negative into a positive? I'll be watching.
By the way, if you have better idea, go to Mack's blog at The Viral Garden and post your suggestion.
Technorati Tags:The Viral Garden, Marketing, Kohls, Branding, Marketing Blogs, Community Building