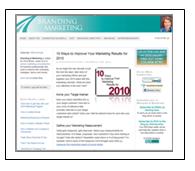 I can't believe we've arrived at a new decade!
I like to follow the principle of "learn from yesterday, plan for tomorrow, but live for today." My first post of 2010 is a top 10 review of some of the top posts from the last 4 years of blogging. If you're looking for different marketing strategies for you business have a look at that page to see how your business could benefit.
Note: the first few links have spent quite a bit of time in the key F location on the top left of my page. I'm sure that's their secret for so many page views!
So as we say good-bye to the "00's", (what are we going to call that decade anyway!?!) take a look at yesterday so planning for the future is a bit easier.
Here's a quick review of some of Branding & Marketing's Top 10 Visited Posts for Business Professionals:
Hope you find these helpful in the coming months of our new year and new decade. Here's to a happy, healthy and prosperous 2010!