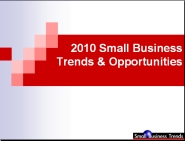 Last night I heard Anita Campbell speak at the Hudson Library to a packed house of entrepreneurs, small business owners and those who are considering taking the first steps in starting a business.
You can read the full summary of her presentation "2010 Small Business Trends & Opportunities" at her online publication, Small Business Trends which offers a wealth of helpful information.
The 10 trends and opportunities for small businesses:
Cloud Computing
DIY Marketing
Green
Personal Branding
Blending of Phones/Computers
Local Presence on the Internet
Growth of Gov't Contracting
More Competition to get Found OnLine
Crowdsourcing Customers w/technology
More Sole Proprietorships (due to high unemployment)
She made the point very strongly that as a small business, you've got to be somewhat savvy of online marketing techniques. If you hire a marketing person in your company, or you outsource your marketing to a firm (Note: here's a link to my marketing company), make sure they are a Techno-Savvy Marketer.
Good advice!
Recommended reading: The Social Media Bible, New Community Rules,
SocialMediaLeaps.com
Two sites that I'm going to check out:
BizSugar, where readers vote on content that helps small business owners. The content is pulled in from a wide variety of authors and published by Anita Campbell.
ReTargeter an advertising app that helps keep loyal readers returning to your online publication.