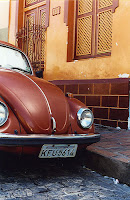 In a recent post from Spain, "Unprofitable brands within a profitable brand portfolio?" José Ignacio Gafo Gómez-Zamalloa discusses moving consumers through the various brands in a corporate portfolio… from Seat to VW to Audi. Flickr photo courtesy of drl.

According to him, the young people start with Seat, then go for Volkswagen and end up with an Audi. The problem is, Seat is the loss leader that captures the consumer in the first place and feeds off the VW brand. Since consumers trade up, should part of the marketing expenses for Seat be shared across the VW and Audi brands? Using all the brands in your portfolio makes sense only if you account for the dollars traded to gain the customer to begin with.
Reminds me of when I was with Rubbermaid and we talked about serving the customer "from cradle" (Little Tikes) through the life cycle to Century and Graco on to Rubbermaid products all the way "to grave"… (I don't think that we ever did buy that casket company!)
Joking aside, it is important to provide products and services that match your customer at all of their various ages and stages. It's much easier to market and to stay with a customer through thier lifetime and market to their needs, than continually trying to find new customers.
There is a rub to all this. Trying to get brand managers in all the various divisions of a corporation to work together to serve the customer through all the stages makes sense only if everyone cooperates. All it takes is one group who doesn't see the value of cooperation and is only out for their own area or brand. Then the portfolio magic starts to fall apart. It takes a lot of cooperation and true support from the top down.
So, what's the lifetime value of your brand? Do you have all the horses pulling your wagon the same direction? How can you better serve more stages of your customer's lifecycle?
Technorati Tags: Marketing, Branding, portfolio,Lifetime Value
Subscribe via Bloglines, Subscribe via Feedster, Join MyBlogLog Community