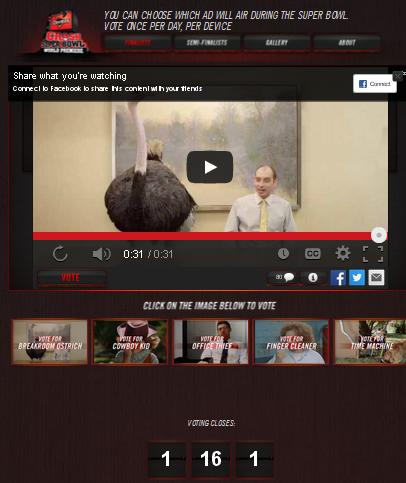 With the XLVIII Superbowl only days away, the marketing hype of the Superbowl commercials is in full swing.
Some of the brands have created the best commercials by having fans do all the production and then promoted to friends and family on the social networks to be chosen as THE Superbowl commercial that will be broadcast. It's a smart way to integrate the brand with consumers in an active engaging way.
Currently below zero weather here in Northeast Ohio has me shaking my head about playing football outside. Even if it warms up a bit, I'm glad I can watch the game from the comfort of a warm living room! Who am I kidding! I'm watching the commercials — not the game!
So even if the weather is too cold to play this Sunday, brands that have challenged fans to get involved with their Super Bowl advertising will continue to build the buzz.
How do you encourage your fans, customers, clients or members to interact with your brand? Leave a comment below.
My past Superbowl Ad reviews:
2013
2012
2011
2010 Missed it.
2009
2008
2007
2006
*Full disclosure and disclaimer: The Dorito's commercial shown above was filmed by AiAtlanta grad ERIC HAVIV - "Breakroom Ostrich" was promoted on Facebook by my first ever boss Fran Burst who took a chance on me just a couple of months after I graduated from college. Only a little over a day left to vote.