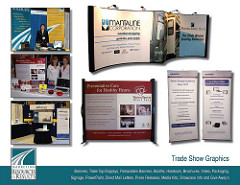 As a marketing professional who has attended more than her share of trade shows, I've seen a big trend at various industry trade shows and conventions: it's the growing trend of retractable banners replacing those big booths at trade shows.
There are a lot of things to like about retractable banners… in fact, it seems like a no-brainer:
Easy to set up
Customizable for each show
Easy to carry
Easy to pack up
Inexpensive shipping (many take them on the plane as checked baggage)
Full color, bright and colorful
I'm not suggesting you throw away your big 20 foot booth, but next time you are preparing for the trade show, think about a Table Top Display with two Retractable banners.  You'll feel like you're going to your kid's soccer game with 3 fold up chairs — instead of getting ready to ship a pallet, assemble a collapsing grid, try to get carpet with magnetic strips to adher and then velcro on the posters.  Not to mention the whole tear down!
If you're planning to market your company's products and services at a trade show in the next few months, you may want to download and print our trade show booth checklist so you don't forget anything!
Need ideas for your trade show booth exhibit?  You may get some ideas if you take a look at our trade show banner graphics web page for ideas. 
What clever ideas and new trends have you seen at trade shows that you've recently attended?