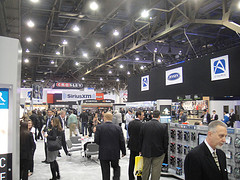 Do you have your anothertrade show coming up in the next few months? Or is this year your very first attempt at a trade show?
Whether you're an experienced brand manager going to your 25th marketing trade show or a newbie going for the first time toyour company'sindustry show, pre-planning is the key to having a successful show.Developing a game planahead of time can make a huge difference.
Perhaps you havea huge booth to pull together. Maybe you'll be using a QR tag. Or a digital video on your chest. Maybe you'll just use a small retractable banner with literature. Now is the time to pull out your booth, set it up and decide what needs to be revised.
Does your literature have an old phone number? Does your retractable banner refer to an outdated product? Can't find one of the literature stands that you're sure you packed away in the storage room?
Don't wait until a few weeks before the show! Use thishandy Trade Show Marketing checklist right now as a starting point for reviewing yourneeds tohelp you have asuccessful trade show result.
YOUR TRADE SHOW EXHIBIT BOOTH
__ Exhibit booth (this is one of the most important factors you need to consider when you're attending a trade show. If you haven't got an exhibit booth yet, learn about custom exhibits here)
__ Retractable banners
__ Table cloth in company colors
__ Business cards
__ Literature, brochures, price list
__ Product samples, if any
__ Pens
__ Highlighters
__ Stapler
__ Lead sheets/log book
__ Enter to Win drawing box with display sign for give away
__ Logoed golf balls, clips, flash drive or other appropriate individual give away
__ HDTV monitor cable to plug into Laptop with looping PowerPoint
__ Candy and candy dish
__ Free gift - something like custom koozies that are personalised to your business will be a great idea to promote your business after people have visited your booth.
If you are looking to buy a trade show exhibit, you may want to check out something like trade show exhibits Chicago to help you get started in time for your next trade show
PERSONAL ITEMS TO TAKE TO THE SHOW
__ Comfortable shoes - most shows have a thin piece of carpet on top of concrete. You'll be glad to have good shoes!
__ Purell hand wash - to increase your chances of staying healthy when shaking a lot of hands! Regular use of hand sanitizer is just common sense, whether you're at a trade show or not. It helps contain and restrict the spread of things like viruses and protects you and your household. It also means you can stay well to meet more customers and make more deals with clients.
__ Facial Tissues
__ Bottled Water - stay hydrated
__ Band-Aids - dry air makes for paper cuts.
__ Energy Bars - you won't want to be eating in the booth, but if you leave, you might miss an important contact
__ Breath Mints
__ Cell phone
__ Calendar
__ Confirmation numbers for hotel, rental car, airline
__ ID, credit cards and cash
__ Logo shirts if appropriate
__ Digital camera (don't forget to take a photo of the booth)
REPAIR/CLEANUP - BE PREPARED FOR PROBLEMS
__ Strong duct tape - cover over that extension cord so you aren't tripping over it
__ Sewing kit
__ Scissors or pocket knife (not carry-on)
__ Cloth or paper towels
__ Trash bags
__ Screwdrivers
__ Appropriate wrench
__ Extra fasteners (screws, nuts, etc)
__ Extra extension cord
__ Powerstrip
__ Extra light bulbs
__ Electrostatic duster with extension
MAKE RETURN SHIPPING EASY
__ Pre-printed shipping labels for return shipment
__ Packing tape
__ Instructions for return shipment
Good luck with your show! Let me know how it went — Did you forget something that I should have listed on this tradeshow checklist??
Image courtesy Creative CommonsFlickr: popculturegeek