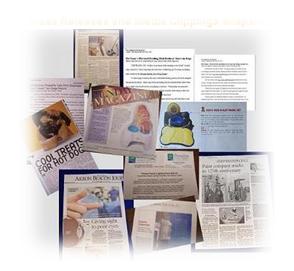 Public relations efforts have five advantages over advertising methods:
PR can tell the full story of your brand, company or product's advantages
People read and listen to PR as opposed to ignoring the ads
Implied endorsement from the publication or media that contains your information
Less expensive to execute than PR, you'll pay only for the creative/production but not for the placement
PR has more "legs" than advertising: Use the same event 2 or 3 ways: promote the event and post it at your website, take photos during the event and promote those on your website, promote the media that you received to further validate your company, product or brand.
Are you considering a PR program this spring for marketing your product or brand?
A PowerPoint slide from Marketri suggests handling your feature story placement this way:
If you have story idea, write a letter that pitches and summarizes your story (don't write the story!). Include the following information:

Tell the editor that you are offering an idea for a feature story
Summarize the idea in one paragraph
Explain why the editor's audience would be interested
Emphasize the scope and importance of the story
Give a few interesting details
Describe photograph possibilities
For those PR beginners who aren't sure how to write a release these sample press release formating tips will help.
Have you used PR successfully to promote your business or product? Leave a comment and let me know!
Related articles from Branding & Marketing:
Disclosure: I own and operate a marketing firm that helps companies brand and market their products and services with many marketing tactics, including public relations and press releases. For more information, see my marketing agency's PR on our website, particularly if you're looking at Cleveland Ohio marketing companies.